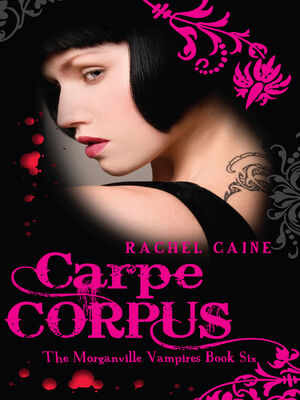 Carpe Corpus (2009) is the sixth book in the Morganville Vampires series by Rachel Caine.
To protect her friends (as much as possible), Claire has been forced to side with Bishop as the battle for Morganville rages on. Somehow, Claire manages to save Shane, reconcile with Michael, and make up with Eve. Claire and Myrnin also may have discovered a cure to the vampire disease. Now they still have the problem of Bishop controlling the city. To save Morganville, someone unexpected has to pay the ultimate price that leaves the entire town in mourning
Book six of the Morganville Vampire series picks up shortly after Bishop, an evil vampire master bent on gaining even more power from a book of secrets, has established his domination over the town of Morganville. The community has a long, unusual history of vampires and humans living side-by-side in an uneasy coexistence but with Bishop in control, humans are at a severe disadvantage.
Claire Danvers desperately wants to see her boyfriend Shane Collins who is being held prisoner and awaiting execution by Bishop. Although she wears a bracelet identifying her as being under Amelie, the former vampire queen of Morganville's protection, it does little to protect Claire from Bishop's unwanted attention. Michael is no help as he now serves as Bishop's minion but as Claire discovers, appearances can be deceiving. There is a rebellion brewing and Claire will be pivotal in forming Morganville's future. Along the way, Claire discovers a deadly evil hiding in the one of the least expected places.
In a departure from earlier books of the series, this one focuses primarily on Claire and Shane. Claire's character grows as she develops from a shy young woman into a strong, determined heroine while Shane gains maturity. Those new to the series would be well advised to start with one of the earlier titles as there are a number of characters readers need some familiarity with to make sense of the story. The pace is brisk and a number of loose ends are tied up as one chapter on the town of Morganville closes and a new one begins.
Key Plot Points
Edit
Key Plot Points that advance the story
Key Characters
Edit
See Also
Edit
Cover Gallery
Edit